Welcome to EOSA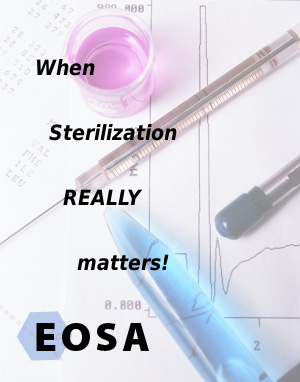 Promoting the safe use of Ethylene Oxide for Sterilization
Proper medical device sterilization is critical to patient care, and ethylene oxide is critical in medical device sterilization. Ethylene oxide is known as the most universal sterilant because it can be used for sterilization of almost all medical devices including plastic and heat sensitive materials. The same cannot be said for other technologies, such as heat sterilization, radiation or peroxide. Ethylene oxide is used to sterilize items that are essential for saving lives – including fiber optic endoscopes, surgical telescopes, ophthalmic instruments, speculas, syringes, anesthesia masks, catheters, respirators, inhalation supplies, and even surgical staplers, staples and sutures.

The role of ethylene oxide sterilization will likely increase. As surgical procedures become more specialized, doctors are moving toward customized surgical kits. Ethylene oxide is the preferred technology and is often the required sterlization method for these surgical kits. Why? Because if just one item in those surgical kits cannot use alternate sterilization technologies – because it is plastic or heat sensitive, then the entire kit must be sterilized with ethylene oxide. Given the growing use of these custom surgical kits, the use of ethylene oxide is becoming even more important to the medical industry and to the health and well-being of the patient community.

The EOSA invites you to learn more about ethylene oxide and its use in sterilization.

Clarification on EO Sterilants Use

EOSA has recently received several inquiries regarding a rumored ethylene oxide (EO) phase-out. To be clear, ethylene oxide sterilants are NOT being phased out due to regulatory issues. EOSA has created an informational document to address this issue - please click here to see it.
We believe these rumors may be related to a recent announcement regarding non-flammable ethylene oxide sterilant blends. Oxyfume 2002, which uses HCFC-22, is being phased out in January 2010. We understand that some hospitals that used Oxyfume 2002 have converted over to Oxyfume 2000 -- a different non-flammable EO sterilant, validated for use in the same sterilizer used for Oxyfume 2002. Oxyfume 2000, which uses HCFC-124, will be phased out January 2015.
Many hospitals have converted to pure EO sterilization, which requires buying a new Pure EO sterilizer. Pure EO sterilants are NOT being phased out.
(posted December 23, 2009)

For previous EOSA news bulletins, see "News" page.